Laboratory and Quality Assurance
Laboratory and Quality Assurance
At Seydel, we invest heavily in our laboratories and quality assurance capabilities.  Totaling over 5,100 square feet of workspace, our laboratories are some of the most expansive in the industry.  Each is outfitted with state-of-the-art equipment and staffed with highly trained, experienced technicians who are able to conduct a wide range of procedures.
A representative sample of the tests that our laboratory technicians conduct on a regular basis include:
Textile Size Cooks
pH
% Solids (i.e., physical property), various methods: Oven 110 C, IR heat, CEM (microwave), Ohaus (lamp balance)
Viscosity (various Brookfield Viscometers)
Appearance (mesh screen filtration)
QA Software (tabulations of data to establish QC specifications and product enhancement)
Filament and Spun Yarn Desize
Water w/detergent, acid or alkaline desize (quantitative extractions (assay) % size and moisture content, add-on)
Microscopy, crosssection, longitudinal view
Universal Yarn Tester (yarn hairness, lent generation, twist, denier, etc.)
Tensile strength and elongation via Instron
Abrasion test (cycles to break)
Spot test ( e.g., Iodine for starch, PVOH, etc.)
Alternative Testing Methods
Acid-Base titrations
Formaldehyde titrations
Ash method for organics (defoamers (volatiles), inorganics (ash) or polymers (volatile)
Analytical / Technical Assay
FTIR Fourier Transformer Infrared Spectroscopy (chemical functional groups C-H bonds, O-H bonds, etc.)
DSC Differential Scanning Calorimeter (polymer glass transition temperature, melting range, thermal characteristics, e.g., reaction-rate)
Melting point (Fisher-Johns)
Flash Point Tester
UV/Vis Spectrophotometer (colorimetric indigo quatification, enzyme assay, etc)
Instron Tensile Tester (fabric, paper, etc.)
Elmendorf Tear Tester
Stiffness Tester (e.g., denim)
Microscopy including photomicrography
Washfastness (Home and Industrial washer/dryer)
Milnor Industrial Wash ("Stone wash" denim)
% Ash (toll business % volatiles with Muffle Furnace)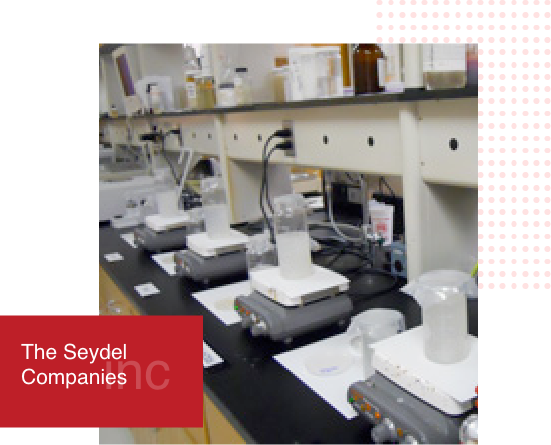 Textile Fabrics
Crockfastness
Laundry fastness
Fabric weight, ends & picks, yarn count
Padder (application of finish formulations)
Dispatch Ovens (curing)
Oil/soil release test
Paper and Packaging
Draw down rod (coatings)
Cobb Test (water resistance)
KIT Test (grease repellency)
OSB / Particle Board
Press
Water absorption bath
Liquids Manufacturing (polymer synthesis, blends, homogenizations)
pH
% Solids (see above various methods)
Viscosity ( Brookfield )
Titration – acid number, hydroxyl number, etc
Gardner color
Visual appearance
Specific gravity
QA Software (tabulations of data to establish QC specifications and product enhancement)
If you'd like to learn more about our laboratory and quality assurance services, including our rates, or would like to schedule a tour of our facilities, please visit the contact us page or send an email to CustomerService@Seydel.com.
ISO 9001:2015 certified production plants set industry standards for quality, reliability, and efficiency.